Website.com Ecommerce Solutions Featured on HostingAdvice.com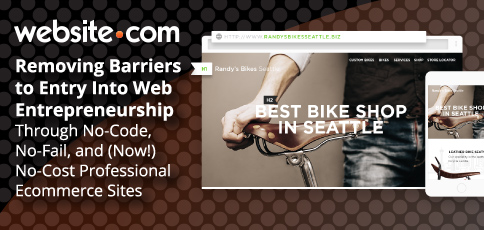 GAINESVILLE, Florida, Apr 20, 2018 (HostingAdvice.com) -- The story of most websites begins with a flash of inspiration, but some of the best ideas often go unrealized due to technical and financial hurdles that prevent a vision from becoming reality. Enter Website.com. The company operates with the fundamental goal of removing these barriers of entry into online markets with a turnkey set of solutions that allow site owners to build, power, and scale their presence in the eCommerce space. We recently sat down with Marketing Manager William Wah, who gave us the scoop on how Website.com has been helping web entrepreneurs broadcast their brands through no-code, budget-friendly eCommerce solutions since 2005.
It's no secret that eCommerce has taken off in the past decade. In fact, 2017 saw roughly 1.7 billion people worldwide purchase goods online, which amounts to global web sales of $2.3 trillion. As an increasing number of consumers turn to the internet to shop, it's safe to say that many businesses without a presence on the web are probably not going to be in business for long.
But getting up and running online can be intimidating for web merchants without previous experience in the eCommerce space. First, site owners must choose a domain name that's memorable and speaks to their brand. Then there's a web host to consider, which often carries confusing pricing structures and enough sticker shock to prompt a beginning entrepreneur to give up the web business dream. For many, however, the real deterrent comes when it's time to build the site itself.
Most startups and small businesses don't have web development and design teams at their disposal, and a working knowledge of HTML, CSS, and JavaScript isn't on the résumés of every entrepreneur. But, fret not, you don't have to give up on your online vision or break the bank by hiring a developer. Since 2005, Website.com has provided aspiring site owners a suite of web services that remove the technical and financial barriers preventing their entry into online markets.
"When Website.com was first formed, the process of building a website was very tedious and required coding knowledge or professional help," said William Wah, Website.com's Marketing Manager. "The few website creator tools that were available at the time were quite restricted with their customization tools and had a steep learning curve."
No Coding Knowledge, No Problem: Easy-to-Use Tools to Get Started
William told us Website.com's goal was to offer a simple way for users to create a website. The idea was to remove both the cost- and tech-based hurdles that were preventing so many startups from really getting off the ground.
"Our builder also allowed for more unrestricted customization," William said. "Over the years, we've further developed our site builder to focus on providing eCommerce solutions for those looking to build their own online stores."
Website.com services a range of websites in many different markets with an equally varied selection of tools and features. But William noted that the biggest draw is its simplicity.
"It sounds obvious," he said. "But our clients want an easy, no-fail way to make a professional website in the least amount of time possible."
William said site owners appreciate the "fun, little features that makes sites stand out." One of these features, called Page Transitions, can accomplish this with very little effort. Site owners can use this feature to set up interesting effects when visitors navigate through different pages on a site. A big part of converting customers and creating brand loyalty is delivering good user experiences — and William said Page Transitions is just one tool in the box built to do just that.

"My all-time favorite feature would be our full-width image strip," William said. "It's such an easy way to create maximum drama on your website. Just add the image strip to your website and choose the image that you want to use. Many people like to use the image strip as a hero banner or as a background for the home page."
Another useful tool William said is popular with Website.com customers is Store Elements. This allows site owners to add individual products or collections directly to a web page, making it easy to incorporate the eCommerce aspects of a site directly into its design.
But, again, William noted that ease of use is what keeps clients coming back.
"Our templates and building features allow users to design and publish an entire website without hiring outside help or using any code," he said. "One huge benefit for clients is when they need to make minor or frequent updates on their site, like adding a new menu item on their restaurant site, or modifying product inventory on their online store. With our site builder, these changes can be made directly by the site owner in a couple of minutes. Potentially, our site builder can save you thousands of dollars per year on the cost of running your website."
New Free eCommerce Solution Means $0 Startup and Monthly Costs
Website.com's various paid plans cost starting at $10 per month (a special introductory offer of USD$3/month available for initial sign-up). However, for the smaller shops and those on a tight budget, Website.com now offers a zero-cost website and online store plan.
"We saw that the need for eCommerce has risen considerably, but there still weren't many (if any at all), completely free drag-and-drop online store builders," William said. "Often, online stores are needed by DIY enthusiasts or very small businesses that are just starting out, and paying a subscription fee is often not in the cards for them. We introduced our free eCommerce plan to help these users sell right away."
The plan is genuinely free. There are no startup costs, monthly premiums, or transaction fees. The latter is especially important for new eCommerce sites who may only make a few sales per month when starting out.
Website.com runs unobtrusive ads on free sites to offset the cost of providing free hosting. Included in the plan is 1 GB of bandwidth, which is ample for a new site, and up to 10 individual site pages. As the website grows and needs more resources or features — such as unlimited pages and bandwidth, a free domain name, and email accounts — customers can easily scale to a paid subscription plan.
A Turnkey Domain, Email, Hosting, SEO, and eCommerce Package
In addition to its comprehensive web development and hosting solutions, Website.com also helps businesses build online presence with SEO features and domain registration services. The idea was to give site owners everything they need under one roof.
All Website.com's paid plans — the Personal, Elite, and Business plans — include a free domain name. It's an unusual and welcome offering in the industry, as most hosts charge for such services.
Website.com's Elite and Business plans also include email accounts and email storage.
"We really think people underestimate the importance of professional emails," William said. "But they can do so much to add a level of professionalism, with so little effort."
Receiving emails from people with @gmail.com and @yahoo.com addresses is fine for personal correspondence. However, email from a brand-specific address communicates solidity, credibility, and a higher level of professionalism.
Dedicated to Optimizing UX and Customer Success
William told us that when Website.com first launched site builders were fairly new concepts in the hosting space and coding websites from scratch was the norm.
"These days, people are familiar with using drag-and-drop builders to create a website," he said. "This means users expect more advanced tools and features, and we are constantly anticipating what our clients will be needing next."
And the way forward, William noted, is going to be through tight collaboration between departments at Website.com.
"We are big on brainstorming," he said. "We throw all our ideas around to see what's exciting enough to run with, and a lot of those ideas come from what our customers want. We're constantly listening to see what features are frequently requested. Or, if there are aspects of our site builder that our clients find difficult to use or confusing, we work to make the user experience even better."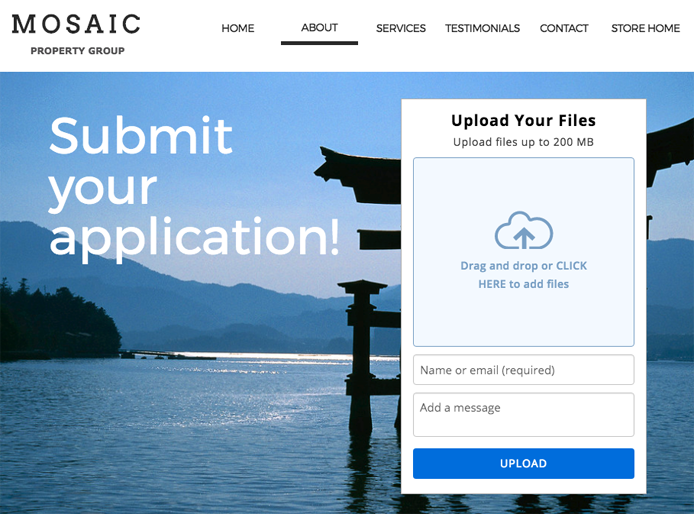 William said the team is committed to looking at news and current trends to uncover new solutions to benefit site owners. Website.com also delivers features customers don't yet know they want. One of these is the new Dropbox Element that users can integrate into their sites.
"It allows visitors to upload files — a résumé, for example — to your Dropbox account through your website," he said. "Coming up are even more features, especially more app elements. We're finding that our clients love being able to integrate third-party tools, such as MailChimp and Instagram, on their websites. We're also constantly working on loading up our eCommerce plans with more tools and features."