1
Choose an Experiment Objective
Just give your experiment a name. This name will show on on your list of experiments in Google Analytics.
Objective for this experiment
This is what Google Analytics will track as a conversion for this A/B test. You can select from any of the goals you have already set up in Google Analytics, or you can create one on the spot.
Learn how to set up goals in Google Analytics
Percentage of traffic to experiment
This is the amount of web traffic that you want to use for your A/B test. Unless you're running a high risk A/B test, we recommend you set this at 100% since will give you the most data and the fastest results.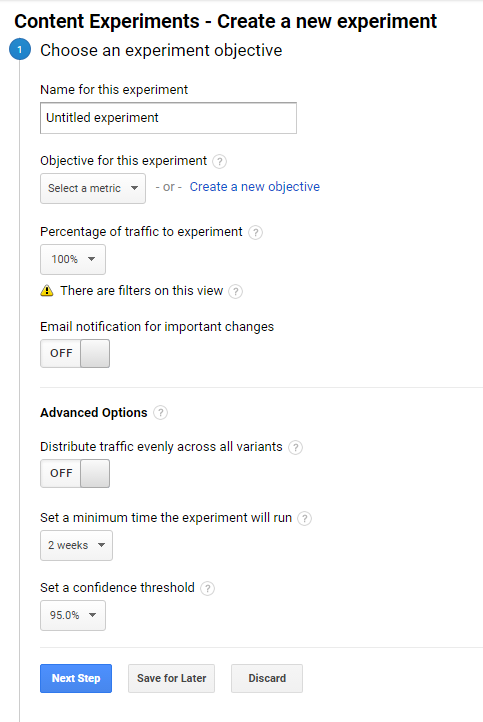 Percentage of traffic to experiment
If you have this setting ON, Google Analytics will distribute your traffic evenly to all variants. This places your original page and variant pages on equal footing, and will give you the most objective results.
If you have this setting OFF, Google Analytics will distribute traffic according to the performance of each page -- the pages that are performing well will receive more traffic, whereas the pages that are performing poorly will receive less. The results won't be as pure as distributing traffic evenly, but you can come to a conclusion much quicker.
Set a minimum time the experiment will run
This is the minimum duration that your A/B test will run before Google Analytics declares a winner. This means that even if your A/B test reaches a statistically significant result, Google Analytics won't declare a winner until the minimum time has passed. Setting a longer time is recommended if you want the most accurate and confident results.
Set a confidence threshold
This is the confidence threshold that must be reached before Google Analytics will declare a winner.
A high confidence level means that if you were to repeat the same A/B test many many times, you are likely to get the same results. Setting a higher confidence threshold means that it will take longer for Google Analytics to declare a winner, but the result is more likely to be accurate. Typically, reaching 95% confidence is a very strong indicator that the results are accurate.
Once you're done, click Next Step.