Content has always been the focal point of SEO.
Most SEO strategies involve helping search engines categorize your content and making your content more relevant.
Heading tags is the HTML markup that tells browsers that it's a headline or a title. Like people, search engines will scan through the headings of your page to get an understanding of what your page content is about. You should create descriptive headlines for all your text content. You can also include keywords that you're trying to target to make your headings even more relevant.
The H1 to H6 HTML tags that denote headings are mapped to the title elements in the site builder.
H1 - Site Title
H2 - Page Title
H3 - Section Title
H4 - Title 1
H5 - Title 2
H6 - Title 3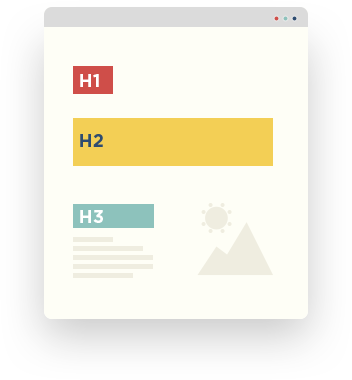 Heading tags are numbered from 1 to 6 to indicate their importance -- H1 is more important than H6. You can style headings anyway you want, but the convention is to use larger fonts for the most important and significant headings larger, and use smaller fonts for subheadings.
You're free to add as many heading tags as you want.
For the best results, you should use headings only when it makes sense. Adding headings all over the place will confuse your visitors and also search engines.
Content
The content we're talking about is the main text that you have on your page. It's the most important factor to SEO. Afterall, useful content is what people are looking for and is what generates revenue for search engines.
So unless you have good content, your page will never rank.
You need to make sure each of your pages is providing unique, high quality content. Don't plagiarize or copy content from the web and use it as your own -- not even from your own pages -- since Google heavily penalizes pages that contain duplicate content. Whenever possible, provide informational content that you think will be helpful to your visitors.
The more popular your content becomes, the higher it will rank.